Tech Bulletin: Updates to Unlimited plans and Data Extender

Updates to Unlimited plans and Data Extender
Hello,
Starting on October 25th, 2021, Viasat's Unlimited plans will provide more flexibility for streaming that customers have been asking for.
Unlimited plans will no longer have a set video quality and will include Data Extender (formerly known as Video Data Extender). With Data Extender, customers now have three choices in how they view video content.
Data Extender will be ON by default, locking streaming at DVD quality resolution (480p). This meets the needs for most customers.
If customers want to restrict their video quality further, they can go into the settings of their individual applications (Netflix, etc.) to manage it.
With Data Extender turned OFF, customers will typically stream the following, based on their plan:

Bronze and Silver – 720p

Gold 30 and Platinum 30 – 1080p (HD)

Gold 50 and Platinum 50 & 100 – 4K (Ultra HD)
Turning Data Extender Off and On is easy in their My Viasat account.
Log into my.viasat.com or the My Viasat mobile app.
Toggle Data Extender Off and On from the My Viasat Dashboard or the Data Usage page.
Be sure to let the customer know that turning Data Extender off will result in increased data usage when streaming video at higher quality.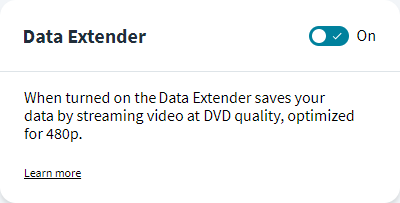 We've also changed the way we talk about Unlimited Data. Viasat's Unlimited plans come with Unlimited Standard Data and a set amount of High-Speed Data. After a customer exceeds their High-Speed Data, they still have unlimited access to Standard Data, which may result in slower speeds.
Should the customer want more High-Speed Data, most will be able to purchase more through their My Viasat account. The customer will need to check My Viasat to see if they are able to get more High-Speed Data in their area.