Tech Bulletin: Voice Service now for up to four lines

Update to Business Voice
Voice Service now for up to four lines
Hello, !
Business Voice service is now available for up to four phone lines for new and existing customers! Each phone line comes with a Grandstream IP phone as well as a Viasat Voice Pro mobile dialer account to use on Android or Apple iOS smartphone(s).
To install, use ports 6-9 on the controller for Voice equipment as shown below: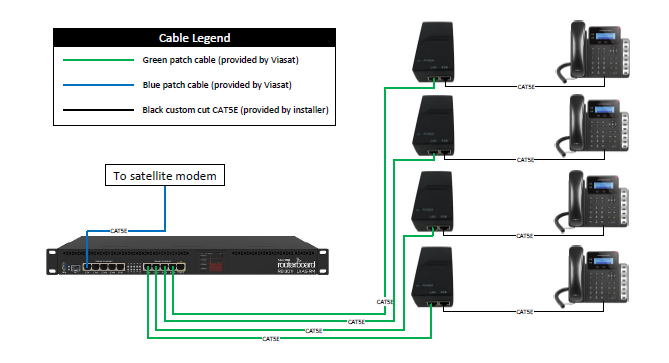 NOTE: After downloading the mobile dialer from the app store, the customer will need to register the app using the business phone number and associated one-time password. They will receive these registration items in the Getting Started with Business Voice email from Viasat.
IMPORTANT: Each phone may be placed up to 300 cable feet from the controller and PoE injector. Be sure to bring the needed supplies (i.e., CAT5e standard Ethernet cable, RJ45 connectors, cable clips, crimping tool, cable cutters, and CAT5e cable tester) to complete the installation.
For complete installation instructions, including how to terminate Ethernet cables, see the Business Voice Installation Guide on the eGuide. If you have installation questions, contact Installer Relations at (888) 278-6869 and select Option 1 for Voice.